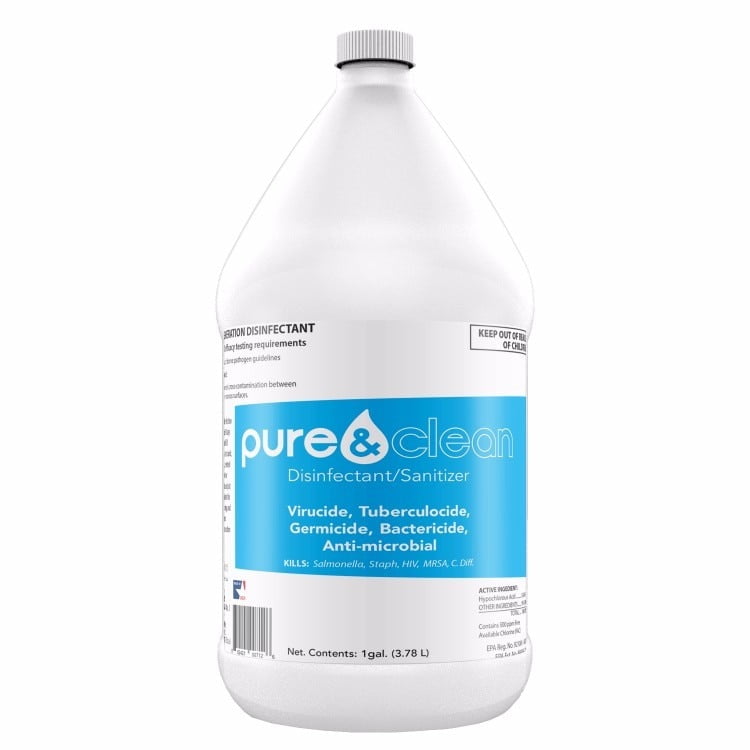 pure&clean®
The pure&clean® Disinfectant Sanitizer (EPA Reg. No. 92108-1-88098) is included on the list of products approved by the US EPA on the List-N.
pure&clean® has demonstrated effectiveness against viruses similar to COVID-19 on hard, nonporous surfaces. Therefore, pure&clean® can be used against COVID-19 when used in accordance with the directions for use against Norovirus and Rhinovirus type 16 on hard, non-porous surfaces.
What is special about Pure&Clean Disinfectant/Sanitizer?
This is a New Generation Disinfectant formulated using Hypochlorous Acid (HOCl) that cleans, deodorizes, and disinfects.
Disinfectant Sanitizer properties:
Virucidal
Tuberculocidal
Pseudomonocidal
Staphylocidal 
VOC free
No Phospates

460 ppm HOCl
Alcohol free
No rinsing required
Bactericidal
Germicidal
Phenol free
Pure&Clean® is an effective sanitizer for food contact surfaces and is appropriate for daily use.
pure&clean® Disinfectant/Sanitizer kills multiple viruses, yeast, and drug-resistant bacteria – including C.Diff spores, MRSA, Pseudomonas.
pure&clean® Disinfectant/Sanitizer is a ready-to-use hospital disinfectant and is trusted by facilities across the United States. 
pure&clean™ meets AOAC efficacy testing requirements for hospital disinfection.
This product also meets the disinfection requirements on OSHA's Bloodborne Pathogen Guidelines.